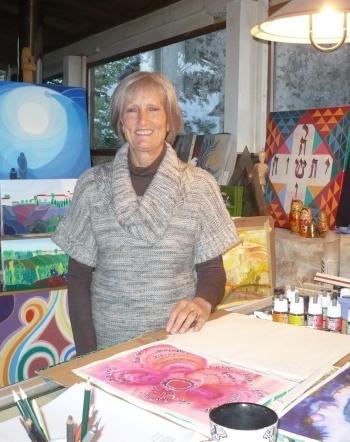 "Véronique Lefebvre-Dufour settled in the Ariège in 1998 after completing her studies as a landscape architect and spending several years in the USA, Martinique, Normandy and Versailles. The picturesque view of the horizon from her home on the rocky outcrop of Roumengoux became a source of inspiration to the artist. From this wonderful view of the countryside around her with its luminous atmosphere she has created colours which are, at the same time, dazzling yet harmonious. Her pictures are charming and filled with 'joie de vivre'. Veronique is interested in biblical culture and her studies in this area are reflected by the symbolism in her work. In all her paintings she invites you to take an inward journey towards serenity which floats like a shadow; mysterious and exotic." From the Newspaper La Dépèche du Midi.
Studies :
Landscape architecture. Versailles. France  Art School, Paris: 2 years of drawing.
Exhibitions:
1988: Galerie Clos la Fontaine, Viroflay
1989: Café des arts Versailles
1994-1996: Exposition permanente, bibliothèque protestante, Versailles
2002: Espace Ariège Mirepoix
2003: Restaurant Le comptoir Gourmand, Mirepoix
2005: Espace Arts et Loisirs, Mirepoix
2006-2009: Participation dans des expositions collectives en Ariège)
2009: Salle des arts, Mirepoix.
Depuis 2010: exposition permanente dans mon atelier. Roumengoux, Ariège.
Souce of inspiration:
My original inspiration came from the colours and shapes in the windows of churches, and art nouveau. From this I developped my own style. My paintings are both symbolic and expressionist, depicted through colour, form an light. Landscapes and studies of  traditionnal litterature are my principal source of theme.
Illustration:
One of my nieces, writer and poetess, Laetitia Lefebvre, askes me to illustrate her second book of poems. I have enjoy this new project very much, as each poem was a new inspiration.
Atelier
In 2008, I realised that I was becoming more engrossed in my paintings so I needed an workshop.  What could I do? In my garden thre was an old ruin. Maybe il will be possible to convert it into a suitable space. I had save money from the sale of my painting and I began to plan the project. I bought the matérials and fot the next 3 summers I worked very hard building my dream! Which has become a place of, music, litterature for myself and my friends.